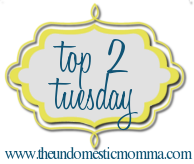 Vacation's almost half over :( But yay for another installment of Top 2 Tuesdays. Head over to
www.theundomesticmomma.com
to link up!
This week's topic is "Top 2 Things You Collect"
I definitely had to think for a bit on this one before coming up with my Top 2...that was until I realized both were sitting in my purse!
1. Vera Bradley products:
Ever since purchasing my first VB bag in 2005, I have been obsessed! I know a lot of people are "over" the whole VB scene, but for some reason I can't get enough of their fun prints and cute purses, wallets, tote bags, etc. My mom is also equally obsessed so I have a partner in crime when we hit up the VB stores/outlets!
Here's some evidence of my addiction to all things Vera:
(The placemats on my coffee table at the moment)
My school bag (which is also on vacation this week!)
My wallet - love those spring time colors!
2. Lip gloss/chapstick
Here's what I took out of my purse (yes, just one purse!)
(L-r: EOS lip balm in Summer Fruit, Burt's Bees in Pomegranate, Nivea Milk & Honey, Smith's Rosebud Salve, Neutrogena MoistureShine)
I also have one more in my car:
Hi, my name is Sara and I have an addiction to keeping my lips shiny and soft!